Into the Wonder…. that's where I often wander. It's been a long, circular sort of journey through life to 'middle age' to return to an attitude/approach that embraces curiosity looking through eyes of wonder amidst the great mystery of life… coming to accept the insecurity and unknown. I even thought of naming our homestead "Wonder Wyld" and my husband suggested "Wonder Wyrd." I also love to wander and respect the quote by my husband's favorite author, Tolkien, that "not all who wander are lost."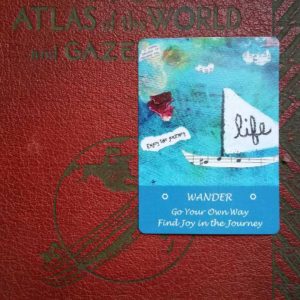 (You can click images to enlarge & view more clearly)
We've recently gone both wandering and wondering on a family vacation. We rented a house near Acadia national park in Maine, which was my mom's birth state and near where my Grammie currently lives. 🙂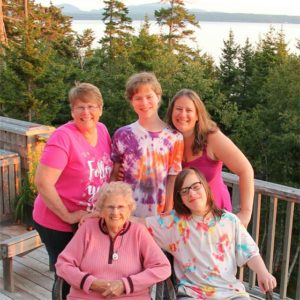 We had a few lovely visits with my Grammie, who is in her 90's, and my aunt. They both collaborated with me on a few paintings last year that are included in the new inspiration card decks. We didn't get to make a mess this time, but we did enjoy sharing stories, laughter, and love. The 'Love Song' card in the 'Soul Songs' deck was a collaboration with my Aunt Merry. The card on the cover of the 'Heart of Life' deck (pictured further below) was a collaboration with my Grammie Arlene last year.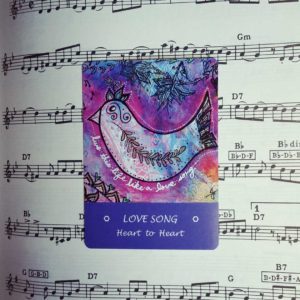 We very much enjoyed exploring Acadia national park on Mount Desert Island, the Schoodic Peninsula, and the Maine coast. One of my sons, Drew, really liked the house we were renting and found it quite interesting. We were lucky to find it on short notice and enjoy it for a short while. After getting settled in to the house the first night, Drew said, "this house was made by weirdos… for weirdos… luckily for us, we are weirdos!" I'm not sure what made him find it so "weird." I think he really meant interesting. He followed the comment, and our amused reactions, with, "Well, I mean, face it, we don't live in a city, we don't go to school, dad works from home." I appreciated his openness with his comments and his easy acceptance of both the home and our lifestyle. Yes, we have made some choices that may be a bit different and are grateful to be able to do so. Yet, my husband still has a pretty typical corporate job as a computer programmer. We are glad he can do so daily from home via the internet (and virtual private networks) as if he is in the office in south Florida where we used to live.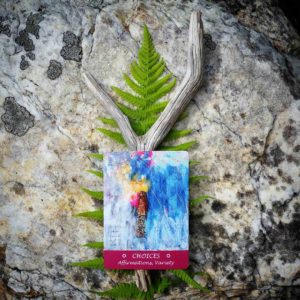 We also rented a different home listed on airbnb for a few more nights in Lubec, Maine. The house was originally built in 1800 and had quite a bit of history! There were old newspapers that had been found in the walls/floors when restoring the house that were framed on the walls. It was also quite serendipitous, after my son's earlier comments, that a book (which had been on my amazon wishlist already) was on the living room table and happened to be called, "Blessed are the Weird!" (I've added a link on the website bookshelf at thrivetrue.com/bookshelf.) The sweet owner of the home let me borrow the book to mail back after I finish it. I'm enjoying reading it now. I think the author is also using the term 'weird' to refer to curious and creative people that are willing to explore, wonder, wander, imagine and try various approaches to life.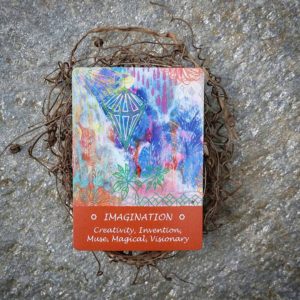 I'm grateful to live in a time and place that I have the freedom to wonder and explore in my own 'weird' way. I shared more about our recent trip in the Mother Home blog post if you're interested. May we all find joy in the journey and be able to go our own ways, whether that looks more or less traditional. May we have the courage and wisdom to live in tune with our own authentic nature and let our heart's sing.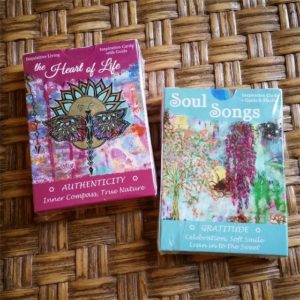 ---
All of the card images featured in this post are previews from either the 'Heart of Life' or the 'Soul Songs' inspiration card decks. They are all included with the Double Decker Sweet Heart & Soul Collection that has both decks. I'm so grateful to have been willing and able to have these paintings & inspiration cards flow through me. I hope they will be a nourishing tool for exploring the wonder and leaning in to life. I've prayed and trust that the energy will be an encouraging blessing, worthwhile tool, and natural medicine (like laughter is good medicine!) to those that choose to receive these. Pre-order special sale prices are available through Sept. 30th, 2017 in the gift shop (no coupon code needed). These might make great gifts if you want to take advantage of the pre-order special now for gifts later. 🙂
May we find joy in the bittersweet art of living and loving. Please feel free to use the sharing buttons below if you know someone that might enjoy the art, blog, give-aways and other offerings. ♡ Thank You!