Do you have ways that you explore within and then express what you discover? I've been weaving together inspiration & instinct through collage, collaboration, and art to create this mixed media painting called "Flowering Weaver." I hadn't intended it to coincide with 'International Women's Day' when I finished it last night to share today, yet it seems fitting! 🙂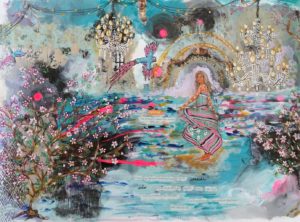 (If the image appears blurry, please click to view more clearly)
The embedded text reads: "Exploring the purifying water that awaits… I love the idea of a modern vivid woman weaver who incorporates many different playful bright collections, cultures, traditions, and customs. Celebrated for the harmonious approach… the natural one."

This is a collaboration with a lovely online art friend, Judith, from Germany that sent me art for this purpose. I also used a travel magazine to gather collage material. I love how it evolved and feel that it encompasses all that went into it from others, my own wonders and explorations, and a bit of wanderlust that I've had lately, too! It was also inspired by an audio speech I was listening to this week by Clarissa Pinkola Estes that suggested we may "decorate our scars with flowering vines." That line stuck with me and reminds me of how creativity helps me do that. I've thought of myself as a weaver for the past few years as I continue learning about various cultures, beliefs, art and healing techniques and 'collecting' what appeals/speaks to me to find my way. Hence, the message within is a personal one.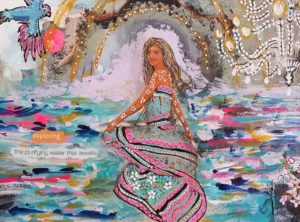 I recorded the process to include with an online course offering I'm currently putting together about listening to and trusting our inspiration & instincts… to creatively explore and express life, wonder, and ourselves. You can sign-up for early bird announcements & sweet specials to receive more information when available.
♡ May we all find our way to the pure, natural core of our being to listen and trust ourselves and find joy in our journeys through this world as well. ♡
Now, I have the "Cheers" TV show song playing in my head for some reason! "Making your way in the world today takes everything you've got.Taking a break from all your worries sure would help a lot. Wouldn't you like to get away?" I guess art has replaced the bar for me these days – thankfully! I'd love to have you join me if it appeals to you, too. 🙂
---
I've set up a special mailing list for blog posts if you'd like to receive these via email when they are published.
Please feel free to use the sharing buttons below if you know someone that you'd like to share this art & message with. ?