Product Description
Handmade and painted clay inspiration ornament or wall hanging!  With lots of lovely details and bits of fairy dust. 🙂 ♡ Wish the camera showed the sparkles better! This one is hand shaped and designed with a bird, butterflies, dragonflies, a frog, dandelion wildflowers and the words "best wishes".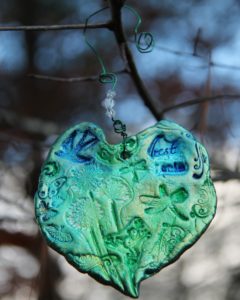 These are made with an air dry clay (brand varies depending on availability).  Wire and beads are used to make the hangers.
The photo is the actual ornament available and ready to ship immediately. Each one is unique and only one available.
I will send the ornament via priority mail.
Please inquire for an international shipping estimate. I will gladly do so!