Ahhh…. it's such a blessing when we can pause to take a deep breath and to honor and appreciate our lives. This is the time of year here in the northern hemisphere when the days grow shorter, the house grows cozier cuddling near the warmth of the fire, and the culture around me takes time to express gratitude through the Thanksgiving holiday. I recently had a lovely conversation that feels so in tune with this natural rhythm.
Thanks to energy coach, Michelle Wolff, for hosting this interview/discussion! We talked about the creative process, how intuition enhances life, the importance of TRUST (going with the flow even with Internet distortions while recording this ha!), HONOR and RESPECT for the process of connecting to and collaborating with the Divine.
I invite you grab a cup of your favorite beverage and join us. If you're often on-the-go and would like to listen in the car while commuting, you can download the file from vimeo to listen to that way ~ just keep your eyes on the road instead of on us please! 😉
Thanks so much for joining us! You can learn more about Michelle at her website thatmichellewolff.com or her facebook group.
You can sign-up for Heart to heART newsletters to receive access to the free Thrive True e-zines and a special coupon code for the card decks (bigger discount than the coupons I share elsewhere) at ThriveTrue.com/magicmail. If you're already an email VIP, please check your inbox for the most recent Heart to heART newsletter sent earlier this month.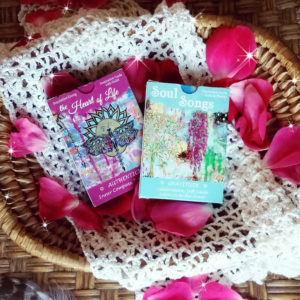 I hope you found the discussion worthwhile and would love to hear your thoughts in the comments. May we all be blessed with time, energy, and sacred space to play, explore, and honor our creativity and our intuition. May we have much to be thankful for along the way.
Wild Wonderful Well Wishes,
Julia (aka Jules/Jewels)
---
If you'd like to get your MFA, as in Magic/Medicine Found in Art, I'd love to have you join me for one of the online creative courses I host. Many of them are available as Pay What You Can/Pay What It's Worth options! So, yes, they are affordable. 
The inspiration card decks are now available in the gift shop.
I've set up a special mailing list for blog posts if you'd like to receive these via email when they are published (I won't send duplicate emails if sending a Heart to Heart email around the same time as blog post).
May we find joy in the bittersweet art of living and loving. Please feel free to use the sharing buttons below if you know someone that might enjoy the art, blog, give-aways and other offerings. ♡