I'm dreaming of wonder full creative weekends here in Blue Ridge, GA, which has been recognized again as one of America's Top 10 Craft Towns by American Craft Week's National search (for a few years in a row now). I'm glad to call Blue Ridge home! 🙂

I'm hoping to host creative retreats here in addition to online in the future. I wonder if any of my online art friends would want to visit?! I'm so grateful to live in a beautiful small town that appreciates arts and crafts and has been recognized as one of the best towns for craft lovers. ♡ Who out there has been here and might like to visit again? Or visit for the first time?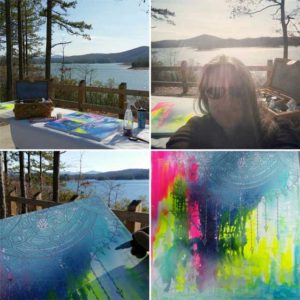 I'm thinking of wonder filled weekend retreats to serenade our souls through mixed-media art exploration/expression AND plenty of inspiration, play, and celebration of sweetness and beauty. Moonlit evenings by the lake, conversations with kindred spirits around a campfire, daytime finger painting and colorful creativity, the scent of rose petals while we gather, soulful self portraits that capture the inner radiance shining out, dancing with the divine… what do you think? 🙂 I'd love to know if you're interested and would especially appreciate if you'd share what your ideal creative weekend retreat would look like in the comments.
Here's a little taste of the arts, crafts, and shopping on Main Street in downtown Blue Ridge:
And here's a tour of the natural beauty that surrounds the area:
---
I'd really love to hear what you think would make a creative weekend retreat extra special in the comments please! Thank you. 🙂
---
Blue Ridge, Ga. is located on the North Carolina – Tennessee line, only 1 ½ hours north of Atlanta via I-575- GA Hwy 515, within easy reach of the best attractions the Georgia mountains, western North Carolina and eastern Tennessee foothills have to offer.
---
I've set up a special mailing list for blog posts if you'd like to receive these via email when they are published.
Please feel free to use the sharing buttons below if you know someone that you'd like to share this healing art & message with. ?