Memories are so mysterious to me… they join us in the present like threads through time. As a child, one of my greatest fears was losing my memory. Now, I sometimes wonder what life would be like without memory… without the story we tell about ourselves. Yet, I'm also very grateful for the best memories… the ones of sweet celebration and joy and a mother's deep love. So, as with much of life, I surrender to the unknown and do my best to accept and explore and appreciate this life. The first rose blooms opened here this week and my memories along with them.
We were blessed to have these lovely roses greet us when we moved here. We had seen the home near the end of winter before spring awakened so we didn't know what we'd find when we moved here in May of 2010. My mom was able to visit once right after we moved in. We had only unpacked enough to get by. My dear dad drove my mom here and nursed her while she was here. She was no longer able to eat at that point so had IV treatments daily. While preparing for her arrival, I brought fresh flowers in as she always did before having guests. These vibrant roses greeted her and sat by her side during her IV treatments. Though it brings tears to my eyes, I'm so very grateful that she was able to visit this home less than a month before she died. The boys and I drove back to Florida and spent the last few weeks of her life there with her. I'm glad we were able to be there and she was home surrounded by love. She was 62 and my boys were only 5 and a half when she died. I wasn't ready to become the elder woman in the immediate family at 34, yet that is what happened. She rose into the mystic beyond and I rose from grief each day as best I could to remember that I was still alive and she would want me to fully live! Every year when the roses bloom, I think of her sweet spirit and love. I think of a quote that has kept me company since I had it hanging in my room during college and feel the wisdom of it in layers upon layers of life.
"We can complain because rose bushes have thorns, or rejoice because thorn bushes have roses." (attributed to both Alphonse Karr and Abraham Lincoln)
Today, I celebrate the sweet scent and bold brightness of the roses. I've swallowed a soft petal to embody the essence through this communion. I give thanks for the blessings amidst the mystery. Serendipity found me again, as it often does, while sitting on the front porch with my boys helping them with homeschool stuff if they needed it. I was browsing through an old book collecting words and found the words 'rose' and 'treasure' on the same page soon after I had decided I would somehow incorporate the rose blooms for my 100 days of Treasure Within and Around Me on instagram today. I clipped a few of the roses (that were reaching too far over the stairs) still wet with rain and enjoyed their company and inspiration while painting and composing temporary collages to photograph.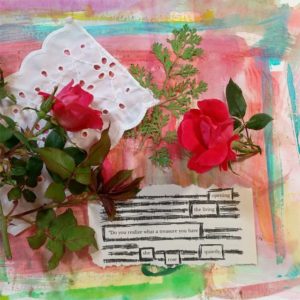 The chosen words from the torn old book page read:
opening
the living
Do you realize what a treasure you have
she
quietly
rose
Later, I paused to have a cup of tea on this rainy day while adoring the view of the roses and the backdrop of pure white dogwood blooms beyond while watching raindrops on the window glass. I see the beauty and the magic/miracles/mystery and take another deep breath.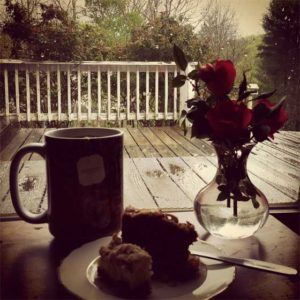 It's amazing the memories a moment can hold… the vase in the photo above is from my dear friend Kane's wedding, the stool I've used as a little table on the floor by my back door was handmade by my father-in-law, the sweet treats were homemade by my mother-in-law and sent home with us after Easter dinner, the roses evoke the deep bittersweet, beautiful blessed memories with my own parents and also remind me of my college room and roommate, the cup is printed with my own painting from the recent past and the plate belonged to my parents. Memories are a sort of thread through time/life indeed!
About an hour later, we saw a turkey in the backyard after the rain stopped for the evening. In spite of an encounter with a scorpion over the weekend and the plethora of poison ivy vines popping back up and all the thorns from blackberries and green brier and wild roses, I prefer to focus on the blessings and I'm grateful to live surrounded by woodlands and wild creatures and nature's medicine and blooming roses.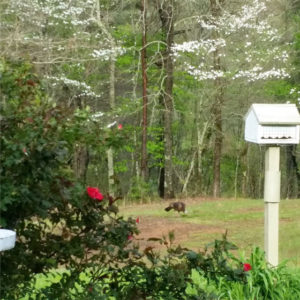 Thanks for joining me for a moment in time!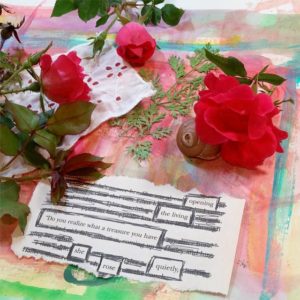 ♡ May the sweetest memories and treasures fill our hearts as we open to living. ♡
---
I've set up a special mailing list for blog posts if you'd like to receive these via email when they are published.
Please feel free to use the sharing buttons below if you know someone that you'd like to share this message with. 🙂