Product Description
*** Coming Soon! (Book is written and in design/publication stage now.) You can receive the Heart to heART email letters from: ThriveTrue.com/MagicMail for a special offer when the book is available to purchase. ***
It's a magical day for a moon dance… every day of our lives! I invite you to dance with me, with your own sacred spirit, with life and delight.
This sweet little book is about falling in love with ourselves and with life. In the book, I share ways I add rhythm, ritual, and enrichment to lighten my days while Dancing with Life and Letting my Heart Sing. I share a daily ritual that has had a beautiful impact on my life. I think of ritual as something that enriches our lives, our environment, or our community due to the attention and action we give it. I've even made up my own word, as I often do, to combine enrich and ritual: enritchual. I'm probably not the first to do so, but I haven't found it in a dictionary yet.
The word "D.A.N.C.E." is an acronym reminder for the basic steps of a daily ritual. This book is a way for me to sort of 'take the lead' as a dance partner for a while. You could think of it like a dance camp. I share my own intuitive daily ritual with many variations to guide you through the process. I share plenty of possibilities through examples, ideas, and prompts each day for about a month. You can choose your own pace and trust your own rhythm. You can improvise, make it your own and keep dancing long after you finish the book! The book is designed to use for a full 30 day moon cycle.
Dancing is often a rather intimate experience. I share many stories from my own life throughout this moon dance together. I think of the many generations before us who shared stories and dancing around camp fires. May we fan the flames of delight! I feel there is so much enriching depth still to explore myself even though I've been doing the D.A.N.C.E. ritual for a while. I recall a suggestion that it's good to write what we most need to hear. That totally applies to this for me! I hope it's worthwhile for you as well.
I share many of the ways I've found to cope with and love life, ways I dance in the rain when it comes and even let it cleanse, heal, and nourish me, and ways I dance with delight. This book is about renewal, refreshment, rejuvenation, and rejoicing each day. It is about leaning in to life even with all the messes and mysteries. It's about finding the magic within it all. To me, Delight can be exciting and expansive! Delight can also be soft, serene contentment. Delight is the Sacred Spark within us. What if we all dance with delight more often?
Though I could self publish it, I'm really ready for a publishing dream team to help make it as beautiful as it can be. Introductions welcome! 🙂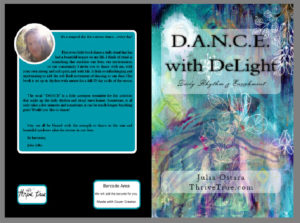 ---
What does Sacred mean to you? Here is a little sneak peak excerpt from the book (prior to final editing!):
"Accepting that I am Sacred and Whole from the inside, no matter what happens from the outside, feels beautiful. I remember when I chose the word 'Sacred' as one of my words to focus on several years ago. I chose it because it was a way to rearrange the letters from the word scared, as in afraid, and completely shift the energy and meaning to Sacred. I have noticed a change in my life since then. It seems the words, or really the energy and ideas, I choose each year tend to build on one another and weave together and become part of my essence."
Do you choose a word(s) for the year? My words (spelled these ways on purpose) for this year are:
Presentce, Appreciation, and Delightfull
Thank YOU so much for supporting artists/authors like me! 🙂 I'll share more info about the book via email once all of the finishing magical touches are done and it is available. You can receive the Heart to heART email letters from: ThriveTrue.com/MagicMail for an announcement and special offer when the book is available to purchase.
---
I'll gladly ship internationally. Please contact me if your country does not already have a shipping option when adding to cart and I'll add it! Thank you. 🙂
* Please see re-seller/wholesale listings for volume discounts for boutiques and gift shops. Thank you!
---