Amidst a bittersweet life, I prefer to celebrate and lean in to the sweet. ? This painting and the playlist that goes with it helped remind me of that as the message emerged to "lean in… life is sweet."
(Please click to enlarge image to view more clearly if it appears blurry)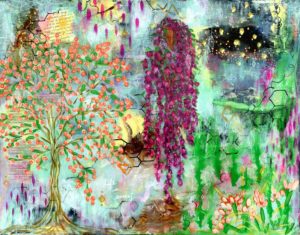 Art Prints, Mugs/Cups, and Tote Bags Available in the Gift Shop Now
I love how it has more messages that seem as if they are rising from the mist and invite the viewer to lean in to read them. I read the messages and shared a little bit of the story from the painting process in the following short video. I almost didn't want to finish it because the process and time spent with it has been so prayerful, spiritful (did I make that up? I like the sound of it!), and therapeutic.
These songs that came on while painting inspired the title and some of the text:

I've been doing gratitude paintings often on full moons. This time, it seems I've been in tune with that rhythm without even thinking about it since this painting and video happened to be finished around the full moon. I started reading a book called "The Great Work" by Tiffany Lazic that reminded me of this as it describes natural rhythms. I'm only on page 8, yet it's already inspired me enough to add it to the virtual book shelf. This quote feels similar to the feeling and message of this painting: "It may be painful and awful at times, but there is so much beauty to be found in the muckiness of human experience as well." Yes, I want to lean in to life! What about you?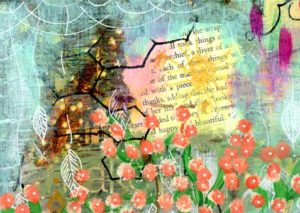 Feel free to share the magic and beauty using the sharing buttons at the bottom of this post! 🙂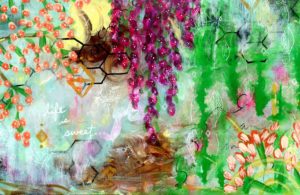 I've recorded the creative process for this painting to include with an upcoming online course. If interested, you can sign-up for early bird announcements & sweet specials to receive more information when available.
Thank you for being part of a beautiful circle of online friends "leaning in to the sweet… leaning in to life" & creating a community of kindness. I always want there to be plenty in it for YOU!
In addition to the art and great gifts that are available in the gift shop and the many co-creative online courses/gatherings that I'm delighted to host, I also offer FREE GIFTS for the beautiful people that choose to spend time with me online.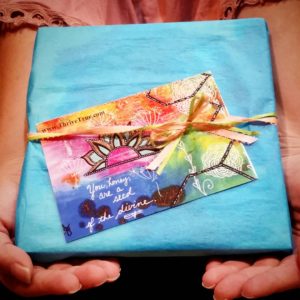 Heart to heART emails: In these, I share what's making my heart sing at the moment, such as books, sweet songs, blog posts, inspiration, well wishes, VIP specials, and of course, current art and offerings. You'll also receive the "thrive true" e-zines when they are published (including immediate access to current ezines after confirming subscription). I do my best to send email you'll actually look forward to. I will only send the more in-depth "Heart to heARTs" every once in a while (about once a month or every few months depending on inspiration). You can start receiving these by signing up at thrivetrue.com/magicmail.
Blog Posts: I've set up a different mailing list for blog posts like this so you can receive those via email when they are published (usually a few times a month). This is a great way to keep in touch more often and be sure you see the blog posts, which are usually sort of a combination of art journaling and thoughts on the art of living. You can start receiving these by signing up at thrivetrue.com/magicmail.
VIP Give-Aways: To celebrate connection, I'm doing Give-Aways reserved especially for email VIPs (Very Important Pen pals). Yay! ? You'll be eligible for the VIP give-aways from both of the email options. You can start receiving the Magic Mail (how I think of email in addition to beloved snail mail!) by signing up at thrivetrue.com/magicmail.
I put a lot of time and energy into both the Blog Posts and the Heart to heARTs. May they be blessings to you.
Thrive True E-Zine: Enjoy a FREE inspirational magazine from artists, poets, healers, & others. I am so grateful for the vision and the lovely contributors that have helped to bring this to fruition! You can subscribe to the Heart to heART emails to access the e-zines that have already been published and receive any new thrive true e-zine when it is available.
Co-Creative Artists Group: I prefer to see other artists as part of a co-creative community cheering each other on rather than competing in some way. I've started a new facebook group with this intention, to co-create, collaborate, and cheer one another on. I invite you to join if you'd like at: www.facebook.com/groups/cocreativeartists. You can share your art and inspiration or enjoy the art shared by others or both! ?
---
I think we are all artists, life artists! May we all find joy in the bittersweet art of living and loving. Please feel free to use the sharing buttons below or from the invitation page at thrivetrue.com/invitation to invite kindred spirits to enjoy life, all the sweet gifts, & community. ♡
Wild Wonderful Well Wishes to You!