Hello beautiful being! You're invited to join me for a free and simple little JOY project… to plant and share seeds of joy in our lives.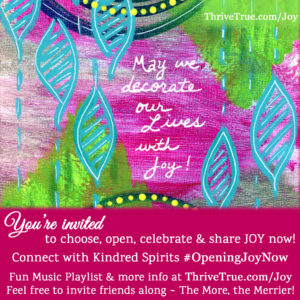 Though I don't really make New Year's resolutions anymore, I have recognized over the past few years that I often used to feel guilty for experiencing joy. I don't deny the pain in the world or in our own lives, yet it feels healthy and encouraging to give more attention to joy. I've kept a gratitude journal off and on for almost 2 decades and it has been challenging at times to think of something to be thankful for (such as when my mom was battling ovarian cancer). Still, I'm leaning in to choosing and celebrating joy as often as I can. From the warmth of the winter sunshine to the hugs with my children before bedtime to the ice crystals sparkling on a freezing morning, I want to be present and choose to notice the many little joys/gifts that make life wonderful.
Turning this into an invitation to share with others was inspired by so many things, including wisdom from the "Rise, Sister Rise" audio book by Rebecca Campbell that I've been listening to about being motivated by pleasure rather than pressure, another book I read last year called "the Book of Joy" by the Dalai Lama and Desmund Tutu, and my own declaration a few years ago to shed the guilt/weight I used to carry when feeling joyful. You're invited to join me. I'd love to connect with kindred spirits and encourage one another through the common tag #OpeningJoyNow on social media. 🙂 I'm going to start with the intention to share as often as I feel inspired for a moon cycle and go from there… perhaps the whole year… remembering to do so when motivated by joy rather than pressure!
The spontaneous, short, and sweet video above was taken one recent morning during a dance break while working on a collage in my basement studio. It was below freezing outside all day so I felt a bit like a flower in a greenhouse opening in the warm winter sunshine. The song "Sacred Breath" came on Pandora by some of my favorite singer/songwriters, MaMuse. I noticed my reflection in the door and decided to dance with my sweet self and the stardust sparkling in my eyes. 🌞 It was pure joy! Yes, the door is old and stained and the patio is plain and I am sharing anyway. I'd love to have you dance with me! I've set up a fun music playlist for us, too. If you'd like to add a song, please share in the comments for this post.
I usually choose a word(s) with intention/attention each year. There have been many words inspiring me as we've turned another calendar year and the days start growing longer again here in the Northern hemisphere. I selected the following cards with intention (rather than randomly drawing them) for this New Year's Spread. It incorporates many of the words/ideas I was considering as a focus for this year. I used a spread suggestion with 12 cards for each month and 1 more for overall theme of year. I used my Double Decker with cards from both my Heart of Life and Soul Songs inspiration card decks.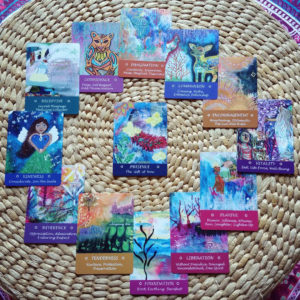 May we be blessed with imagination, communion, encouragement, vitality, playfulness, liberation, healthy foundation, tenderness, reverence, kindness, joy, receptiveness, confidence, and presence each day of our lives. I still haven't actually narrowed down my main word(s) to focus on this year. I'm leaning towards PRESENCE or APPRECIATION and 'SOFTEN' keeps whispering to me as well… perhaps softening into joy! Presence seems to encompass most of the others to me in some way and is the reason I added the word 'now' to the tag #OpeningJoyNow. I wanted to acknowledge and remind myself that we have choices, even amidst all the drama, suffering, and circumstances often beyond our control. We can choose to 'open' the joy to be found now. It doesn't mean that we won't also feel worry, grief, frustration, etc. Tuning in and being aware of all the different feelings are part of our intuition and instincts and how we live. Still, I prefer to notice and choose joy, to lean in to the sweetness in life, to celebrate it and share it… not from a place of 'look at me' rather from a place of 'would you like to enjoy with me?'
To me, choosing and celebrating joy is part of falling in love with life. The first painting I finished this year was inspired by a cute cartoon I saw recently that had the following discussion between 2 characters: "Why so optimistic about 2018? What do you think it will bring? Everything seems so messed up." 😐 "I think it will bring flowers." 🌷 "Yes? How come?" 🤔 "Because I'm planting flowers." 😊 I wish I knew who to credit those words and the cartoon to because I love it! So, I'm planting seeds of joy and flowering fruit trees! 🍒🌞🌳 I've physically planted and nurtured fruit trees every year since having our first home in South Florida in 2001 and since moving to the Blue Ridge mountains in 2010. This painting holds a symbolic fruit tree.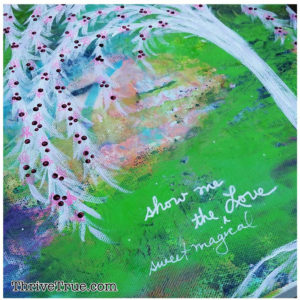 Here's to sweet, simple joys like smiling at ourselves in the mirror with love, watching the moon rise, stretching in the morning, or sharing a juicy, delicious and nourishing harvest of fruit.
Wild Wonderful Well Wishes to You, Julia/Jules
PS – I have purposely chosen not to call this a JOY 'challenge' like so many social media 'challenges' out there. I much prefer the idea of a JOY invitation! 🙂
---
The inspiration card decks featured in the New Year's spread above are on sale now in the gift shop. You can receive $5 off any deck at checkout with coupon code: BlessedBe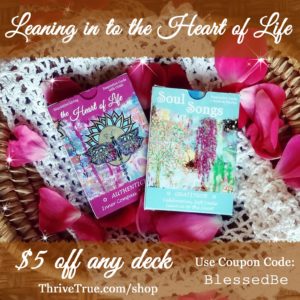 If you'd like to get your MFA, as in Magic/Medicine Found in Art, I'd love to have you join me for one of the online creative courses I host. Many of them are available as Pay What You Can/Pay What It's Worth options! So, yes, they are affordable. 
Keep in Touch: Instagram, Facebook, and Heart to heART newsletters
I share many books I've found worthwhile, including some about joy, at ThriveTrue.com/bookshelf.
May we find JOY in the bittersweet art of living and loving. Please feel free to use the sharing buttons below if you know someone that you'd like to share this joy invitation with. ♡