♡ Wild Wonderful Well Wishes to *YOU* ♡
Welcome to the online home and community center of artist & hostess, Julia Ostara. Amidst a sometimes bittersweet life, I prefer to celebrate and lean in to the sweet. 🙂 You're invited to join a beautiful circle of online friends "leaning into the sweet" & creating a community of kindness. I always want there to be plenty in it for YOU!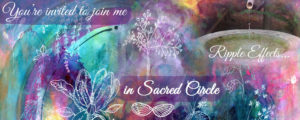 Sacred Circle for Sweet Patrons: I've recently set up a community for Sweet Patrons with new offerings. There are various options from 'tea time' to more intimate moments sharing soul food and stories by the fire. You can visit www.patreon.com/ThriveTrue to see what's cooking! 
 I'll be sharing spirit medicine, healing art, painting play dates, card readings, rituals and more. 
In addition to the art and great gifts that are available in the gift shop and the many co-creative online courses/gatherings that I'm delighted to host, the following offerings are FREE GIFTS for the beautiful people that choose to spend time with me online.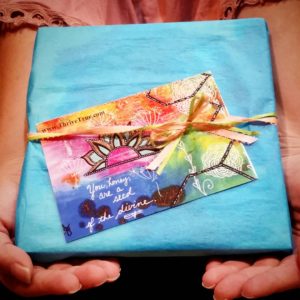 Heart to heART emails: In these, I'll share what's making my heart sing at the moment, such as books, sweet songs, blog posts, inspiration, well wishes, VIP specials, and of course, current art and offerings. You'll also receive the "Thrive True" e-zines that have been published (immediate access after confirming subscription). I do my best to send email you'll actually look forward to. I will only send the more in-depth "Heart to heARTs" every once in a while (about once a month or less depending on inspiration). You can start receiving these by signing up at thrivetrue.com/magicmail.
Blog Posts: I've set up a different mailing list for blog posts so you can receive those via email when they are published (usually a few times a month). This is a great way to keep in touch more often and be sure you see the blog posts, which are usually sort of a combination of art journaling and thoughts on the art of living. You can start receiving these by signing up at thrivetrue.com/magicmail.
VIP Give-Aways & Coupons: To celebrate YOU, I'm doing occasional Give-Aways & Coupons reserved especially for VIPs ~ Very Important Pen Pals and Patrons. Yay! The VIP Give-Aways & Coupons are announced in the Heart to heART emails and in the Sweet Patron community.
Thrive True E-Zine: Enjoy a FREE inspirational magazine from artists, poets, healers, & others. I am so grateful for the vision and the lovely contributors that have helped to bring this to fruition! You can subscribe to the Heart to heART emails to access the e-zines that have already been published.
Art & Inspiration: I share many photos of paintings and inspiration on instagram and facebook.
Co-Creative Artists Group: I prefer to see other artists as part of a co-creative community cheering each other on rather than competing in some way. I host a facebook group with this intention, to co-create, collaborate, and cheer one another on. I invite you to join if you'd like at: www.facebook.com/groups/cocreativeartists. You can share your art and inspiration or enjoy the art shared by others or both! 🙂 I think we are all artists, life artists! May we all find joy in the bittersweet art of living and loving.
---
In addition to the free gifts above, I've recently made several online course offerings available as Pay What You Can/Pay What It's Worth offerings! So, Yes, you can afford to join me! I want anyone that would like to participate to be able to do so. I also want to trust and celebrate generosity and reciprocation. These are self paced courses/retreats and can be started any time! I'd love to have you co-create with me! ♡
Co-Creative Courses/Retreats: YOU have and are a Creative Gift! Let your heart sing! Explore, express, paint, play, wonder, and enjoy YOUR creative gift, listen & trust your inspiration, instincts, voice & soul. I often greet the blank canvas/surface as both a playground and a temple of sorts – a place to meet with mystery, dance with the divine, explore the wonders & wilderness, play with possibility, sing, pray, cry, celebrate and co-create with the life force that flows through all! These offerings are how I try to nurture mind, body, spirit, and community in a creative way. Many of them are available as Pay What You Can/Pay What It's Worth options! Let's get creative and be*you*to*full! Visit thrivetrue.com/courses to co-create with me.
While I'm glad to offer all of the above and nurture generosity, this is my livelihood. Money is a tool for exchanging energy and encouraging wealth to flow through our communities. If you've been blessed by something I offer and would like to give back, then you can choose to shop with me or send a little loving support through paypal at: www.paypal.me/thrivetrue. You can also become a Sweet Patron and receive access to more special member offerings while also supporting these efforts. Thank YOU. ♡
May we thrive in harmony.
---
Know someone else that might appreciate and enjoy the art, gifts, energy, community and other offerings here? Feel free to share the magic and beauty! Please use the sharing buttons below to invite kindred spirits to join us… adding your breath to the wildflower wishes that we may thrive true together in harmony with joy, grace, generosity, reverence & delight. Let's Spread Seeds of Kindness and Scatter Sweet Smiles. 🙂
When you choose to share/invite others, the following image will be displayed along with the written invitation: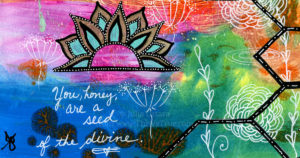 You're invited to enjoy life, gifts & co-creative community with hostess & artist, Julia Ostara.
Leaning in to the sweet! ♡ Visit ThriveTrue.com/invitation
---
I love the way the word kindness evokes multiple meanings as both 'being considerate and graceful' and also 'being of similar origin/species; kindred spirits.' Thank You for helping me co-create a community of kindness.