Wishing you a healthy harvest! I'm celebrating the "Harvest Time" on this Autumn Equinox with deep gratitude – So thankful for all the beautiful nourishment around me and being able to share it.
(Click images to enlarge & view more clearly)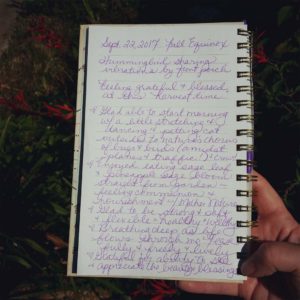 I've been loving the roses in bloom here and using the petals for photos with the card decks. Now, I'm making rose water with those petals. 🙂 I always enjoy listening to my husband play acoustic guitar (and sometimes borrowing one for props!). I'm also grateful for my flexibility and yoga mat, marvelous mentors, art books, and life (all peeking into the photo with the guitar below)! I love the edges of seasons. This time of year reminds me to be thankful for the harvests.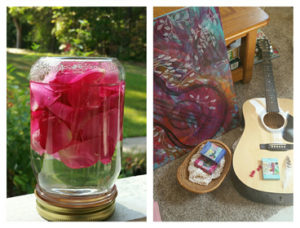 I'm also very grateful for the ability to have created the inspiration card decks over the past few months… I had been planting and nurturing those seeds for a long time! 😉 All 3 options are now available for a Pre-Order Special Sale in the gift shop (through Sept. 30th). I didn't notice it when taking the photo below, yet now it reminds me of a bread basket… may the decks be nourishing 'soulfood' indeed.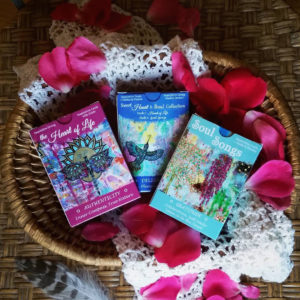 Do you still feel in tune with the natural rhythms of the seasons? I remember it was different when we lived and gardened in the tropics… we had mango season and rainy season and dry season. Moving back to an area where the typical 4 seasons are felt more obviously has reminded me more of the cycles of planting, tending, harvesting, resting. Many traditions around the world have roots in the natural cycles after all.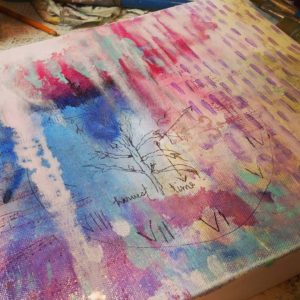 While creating the painting in process shared above, I originally wrote 'harvest' with the organic sketch (inspired by the pineapple sage blooms in a vase on my studio table). Then, the idea of harvesting time came to mind. I wondered about that while adding the clock. As often happens, a song or 2 came to mind while painting, along with a few books this 'time'. The books by one of my favorite fiction authors, Juliet Marillier, probably also encouraged me to be more aware of the seasons since there are often references to the various activities and traditions. I've also just finished reading a series with my boys that took place in a stone age time period, the Chronicles of Ancient Darkness by Michelle Paver, that has many seasonal references and rituals. There's also a book about 'Creating Time' by
Marney K. Makridakis 
that sort of refers to the idea of 'harvesting time.'
For my friends 'Down Under,' wishing you a prosperous planting time and Spring Equinox! Even though it's not really 'planting time' here where I live, I find the shorter days and longer nights to be a ripe time for working on creative projects. I'm working on a book about Painting our Soul Songs and hope to have more 'time' for that in the coming months.
This is one of the songs from the painting above (not available on spotify):
And here's the rest of the playlist:
I hope you have plenty to be thankful for this harvest (or planting) season. Wonderful Well Wishes to You, Julia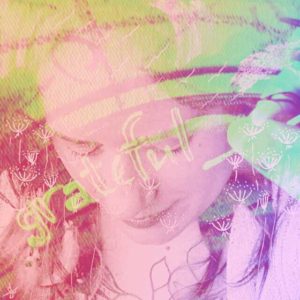 ---
All books referenced in this post are listed with author information and links on the book shelf page at thrivetrue.com/bookshelf.
I've set up a special mailing list for blog posts if you'd like to receive these via email when they are published (I won't send duplicate emails if sending a Heart to Heart email around the same time as blog post).
May we find joy in the bittersweet art of living and loving. Please feel free to use the sharing buttons below if you know someone that might enjoy the art, blog, give-aways and other offerings. ♡
---