What do you hear? One of the songs that came on while I was painting this showed up in a more obvious way. Any guesses before looking at the playlist below? I always wonder how YOU see/feel/connect with art. We all bring our own experiences and perspectives to our vision and interaction with the world, others, and art. I'd love to hear your thoughts in the comments.
(If images appear blurry, please click to enlarge and view more clearly)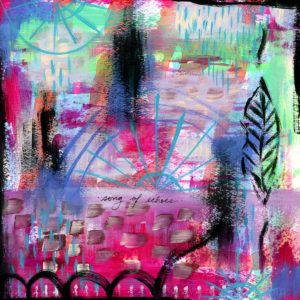 Original, Prints, Mugs & Totes Available in Gift Shop
The title kind of volunteered at the very end as it seems to sing to me beyond the songs that I heard while painting. This is an example of what I meant in recent instragram video post (with the chamber music) about often 'painting songs.' My son inspired the thought of actually painting songs years ago when he was a toddler. Now, I often find it feels as if that's what I'm doing as well. What makes your heart sing and how do you express your songs?
Though it appeared without intent, after painting this, I saw what seemed like shadows/echoes and felt the presence of deep love. It reminds me of the love that lives on after earthly bodies die. It's been 7 years since I watched my mom take her last breath (on June 15th, 2010). The grief can still be so heavy at times and I miss her laugh and touch so very much. Yet, I often hear the echo of her love and wisdom in my head and heart and know that love lives on. Her love still echoes and sings to me.
I've recorded the creative process for this one to include in upcoming creative offering. You can sign-up to receive early bird announcements & sweet specials.
I'm noticing many recent paintings seem to have their own playlists! Here's a playlist from the songs that either played while painting or came to mind while painting "Song of Echoes" shared above. This one has a common theme… I started sharing art, wonder, blog posts, and hosting creative courses in memory of my mom. I found the creative process to be such a healing activity when trying not to drown in grief. It helps me to explore and love life through art and wonder. It has also helped me to embrace the bittersweet, the whole experience, life and death and the natural, mysterious cycles of it all.

Here's another painting that also feels full of echoes to me. I shared it last month on social media for memorial day: "Sippin' on Sweet Memories." It went through so many interesting layers and struggles. This one has a faux encaustic effect and reminds me of an old photograph. It is dedicated to all those that have lost loved ones or lives – whether to the wars of men, or the wars of depression, addiction, disease (many of which are related to wars of men!) or simply to the natural cycle of existence. Wishing for peace and human kindness… hoping that we may all find ways to 'sip on the sweet memories' with our loved ones.  This also feels like summer to me and appropriate with the Summer Solstice coming soon to the northern hemisphere.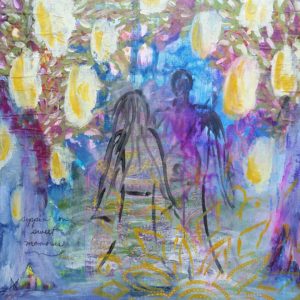 "Sippin on Sweet Memories" original available in gift shop now.
The title was inspired by lyrics in a song by MaMuse (whose music I adore!) that came on while I was painting. It evolved from "sippin' on sweet lemonade" into "sippin' on sweet memories." I even painted a table with lemonade cups and pitcher in an earlier layer as the painting was emerging. It feels almost like a collaboration with the singer/songwriters, which is something that will be explored further in upcoming course offerings as well. These lyrics strum my heartstrings! They were definitely singing my language. 😉
"I am never alone wherever I am. The air itself supplies me with a century of love. When I breathe in, I am breathing in the laughter, tears, victories, passions, thoughts, memories, existence, joys, moments, and the hues of the sunlight on many tones of skin; I am breathing in the same air that was exhaled by many before me. The air that bore them life." ― C. JoyBell C.
I greet the creative process as a place to connect and catch my breath and invite you to take a deep breath with me. It always feels so good to take a deep breath… especially when no sinus issues from colds, crying or pollen! Ah….  If you'd like to join me to greet the creative process as a place to catch your breath and explore the wonder, please sign-up to receive early bird announcements & sweet specials when the new offerings are ready! 🙂 I'd love to hear if you have requests or input about what your ideal online creative course would include in the comments here.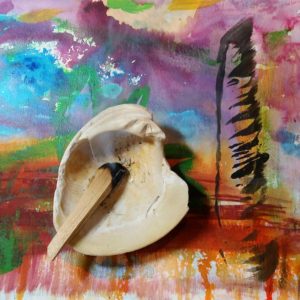 Thank you for spending this time with me. I am grateful to connect with you in this way and wish you beautiful blessings.
Please feel free to share using buttons below if you know someone that might appreciate either the art or the music playlist, especially if they are living with a grieving heart. As a line in one of the songs from playlist says, "let's dance in the graveyards." (PS – My mom chose not to be buried in a graveyard and she loved to dance!)
I've set up a special mailing list for blog posts if you'd like to receive these via email when they are published.