Creating art has been such a healing activity for me again and again. Mingling intuition and intention, the painting below feels like a healing touch for body, heart, and spirit. Maybe it will touch you as well. It was inspired by milagros and fellow artist and friend, April Miller McMurtry's offering/lesson for the 21Secrets Embody course.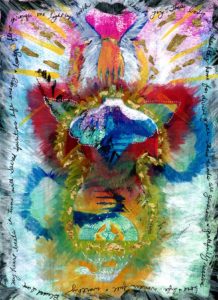 The first part of my body that came to mind was my womb when preparing to do this. It feels like it's time to shed the extra weight that I carry there, both literally and symbolically. I realized a few years ago that I needed to forgive my body/self for not being able to carry my twin boys to full term. They were born 3 whole months early and had a very rough beginning! I'm glad that they were a natural surprise soon after our wedding… that I didn't go through any fertility stuff to have them because I imagine that would add an even heavier layer of guilt to what I already felt if I had tried to force this on my body. Their birth circumstances challenge my usual preference to take a more natural approach to life… they wouldn't be here and I don't know if I would have survived either without an emergency c-section. I have mixed feelings about technology and human intervention with nature, yet I'm grateful to the NICU and machines that kept them alive. I didn't expect that to come back up when working on this painting, yet it feels like releasing another layer of the grief and guilt that I didn't know I was still carrying. I didn't even think of the 2 fish from a milagro stencil potentially representing my kiddos until just now! I intended them to represent a healthy flow of energy through my entire body, especially since I've been trying to lighten my fear of ovarian cancer after my mom died from it.
I also felt a need to send some love to the center of my back where I have had pain over the past year off and on and to my heart, which seemed to be a bit irregular lately (similar to anxiety feeling I used to get when my mom was dying). All of the energy that I put into the painting seemed to be lightening the tension in my body as I went. It feels good! Using the gold leaf around the body even though this was just on paper for personal exploration felt really great, too – like acknowledging that I am worth it.
The text around the outside of the painting reads:
My heart beats in tune with Sacred Spirit as life energy and beauty flow through me lightly with ease and joy. This body is a healthy home for divine grace. These hands are generous and gratefully receive love and life. Wonder full and worthy. Blessed I am.
Experiences like this are a big part of what I love about creating mixed media art. I often find the creative process to be so healing and interesting and a wonderful way to explore life, express myself and even get in tune with the divine within (whether you call it Holy Spirit, Great Mystery, Father, Mother, or Divine Energy). This is why I prefer and love to both participate in and host this sort of creative offerings. While art techniques are worth learning and always an aspect of the courses, it's the play, experimentation, community, exploration, and spiritual expression that make it magical to me.
Have you had any experiences like this, whether from creating art or some other activity, that feel healing and mystical and magical to you? I'd love to hear from you in the comments. 🙂
You can visit thrivetrue.com/courses if you'd like to learn more about the online offerings I host. You can visit April's website at paintingessence.com if you'd like to learn more about her offerings.
I'd like to close with the lines from a message that came forth during another recent painting (from Mother Mystery painting shared in prior blog post):
I am the Whole Spirit
Breathe easy
Place your hands on your heart and your belly
and feel me within where I have always been
I am the sanctuary of your soul
I am alive
May we feel fully alive indeed. Wonderful Well Wishes to You! ♡
---
I've set up a special mailing list for blog posts if you'd like to receive these via email when they are published.
Please feel free to use the sharing buttons below if you know someone that you'd like to share this healing art & message with. ?