Ahhh… isn't it amazing how invigorating it can be to Take a Deep Breath of Life?! I haven't always felt that way. There were times when I didn't much care if I went on living and was often numb. There have also been times when I've been clinging so tight to life that it's caused paranoia. Thankfully, I'm finally finding a beautiful balance somewhere in between and leaning in to explore life with presence and eyes of wonder. Maybe that's the sweet spot at the Heart of Life?!
I've been thinking about that while creating these inspiration card decks (you can click the images to enlarge). It's something I've wanted to do for a long while, yet always seemed to have other priorities… It was time to re-prioritize after recent health concerns! I especially wanted to finish them to be able to give to my boys and also to use myself. I love collecting art from other artists that have made it available in this affordable and practical way. It's a great way to enjoy a variety of art without needing more wall space for prints or originals! ? I'm looking forward to keeping a deck in my bag or car.
As often happens, it seems to be unfolding in some mysterious natural timing/flow. The art was created over the past several years without this particular project in mind. Yet, when I started going through my word collection (values and ideas that I often refer to for prayers, well wishes, and intentions), they started aligning with the art almost serendipitously (is that a word?). The decks seemed to take on a life of their own as more words/ideas flowed forth sparked by the art. I've prayed and trust that the energy will be an encouraging blessing, worthwhile tool, and natural medicine (like laughter is good medicine!) to those that receive these.
I've been singing along while working on the second deck, Soul Songs (and taking an occasional dance break!). I've often said that I find myself 'painting songs.' Now, many of those paintings are part of this new harmonious deck. Each card has a song or playlist that goes along with it. I like to think of decks like this as tools, kind of like a radio antenna (or wifi these days!), that help to have less static and tune in more clearly. What if we notice the thoughts playing in our heads like soundtracks so we can choose what the lyrics are with awareness and intention? What if we're able to trust what makes our hearts sing, dance with life, and harmonize with the world? Yes, I'm a dreamer! (but I'm not the only one… sing along?)
I've just received the first sample order to ensure great quality before making both decks available in my gift shop. Thankfully, they turned out beautiful and are now available for a pre-order special! [If you or someone you know might like to offer these in a boutique/gift shop, I'll gladly arrange a bulk wholesale discount for retailers.]
I did a give-away of the "Heart of Life" deck, which includes 52 cards, for one lovely email VIP! This particular give-away was reserved especially for email pen pals. Congratulations to Wendy who is the recipient! 🙂 I didn't know anything about her when randomly selecting a name from the entries, yet after contacting her I learned that she lives in the Houston area and was impacted by the hurricane. I hope it will be a nourishing tool.
Here's what Wendy had to say: "Hi Julia! Wow, this is so wonderful, especially after all the depressing news from around here over the past few weeks. We're just north of Houston, in one of the areas that was hit by Harvey. Both my husband's office and my workplace were flooded during the heavy rains – fortunately we can both work from home. So many people have lost everything."  ~ Wendy
I'm so glad to be able to do this little thing to brighten her day. 

I prayed before drawing that the person that would appreciate and benefit the most would be selected. Her name actually came out twice in a row because I had missed one entry and had to draw a second time. Meant to be! I didn't know she was in the track of the hurricane and have been thinking about all those impacted. We used to live in Florida and went through Hurricane Andrew in the keys and later storms in south Florida. It can be so devastating and scary. My dad, many friends, and family are now in the path of hurricane Irma. I am glad that, in spite of the damage in Texas, Wendy is healthy and able to adapt. 
Wishing everyone in the impacted areas a safe haven during the storm, healthy recovery, and nourishment and peace after the storms.
You can sign-up to receive the occasional "Heart to heARTS" and participate in future email VIP give-aways here:
I'll also be doing a give-away for the sweet Soul Songs deck later on social media so stay tuned! 🙂
I'm offering a Double Decker collection as well! It's been such a blessing to re-visit all the art while making these, especially some that the originals have found other lovely homes. There are even a few cards with a beloved layer that I've painted over since scanning!

---
The inspiration card decks are now available for a pre-order special in the gift shop. ?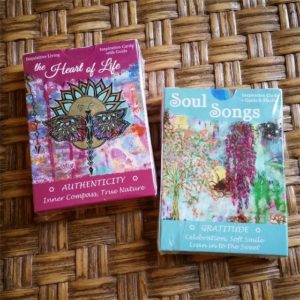 I'd love to hear from you in the comments (scroll down to end). What do you think about the "Heart of Life" (by the way, it's been playing in my head to the main tune from the song 'Walk of Life' by Dire Straits)? Do you have any favorite "Soul Songs" that make your heart sing? What are you grateful for right now? I'm grateful for the time to do this and connect with you! Thank you for sharing part of our journeys together in this way. You're in my heart, you're in my soul…
May we lean in to the sweet and take a deep breath of life.
Now, I have the song that came on my alarm clock the morning after I was wondering if I should open my heart to the guy I had just started dating… which was 17 years ago. I'm so glad I did "let the walls around my heart go tumbling down" to the man that is now my beloved husband and father to our boys. As Faith Hill sang, Just Breathe…
Wonderful Well Wishes to You,
Julia
PS – Here's a little playlist with songs referenced in this post. 🙂

---
I think we are all artists, life artists! May we find joy in the bittersweet art of living and loving. Please feel free to use the sharing buttons below if you know someone that might enjoy the art, blog, or give-aways. ♡
I've set up a special mailing list for blog posts if you'd like to receive these via email when they are published (I won't send duplicate emails if sending a Heart to Heart email around the same time as blog post). 🙂