Ahhhh….. hello dear bright beautiful being. Welcome to my virtual hearth and home.  I'm so glad you've found your way here and I thank you for spending a bit of your sacred time with me. May we both be blessed by this connection. ♡  I'd love to offer you a nourishing cup of tea and a seat on the porch or by the fire with me! I hope this virtual visit will suffice for now!  May being here bring a smile to your heart… that's what I really want to do… see more sweet smiles. 🙂
You're invited to be part of a beautiful circle of online friends "leaning in to the sweet… leaning in to life" & creating a community of kindness. I always want there to be plenty in it for YOU!
In addition to the art and great gifts that are available in the gift shop (including mugs and tote bags) and the many co-creative online courses/gatherings that I'm delighted to host (many are Pay What You Can/Pay What It's Worth offerings! So, YES, you can afford it!), I also offer the following FREE GIFTS for the beautiful people that choose to spend time with me online.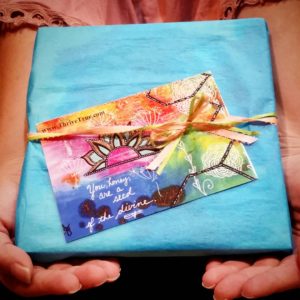 Heart to heART emails: In these, I share what's making my heart sing at the moment, VIP specials, and of course, current art and offerings. You'll also receive the "thrive true" e-zines when they are published (including immediate access to current ezines after confirming subscription). I do my best to send email you'll actually look forward to. I will only send the more in-depth "Heart to heARTs" every once in a while (about once a month or every few months depending on inspiration). You can start receiving these by signing up at thrivetrue.com/magicmail.
Blog Posts: I've set up a different mailing list for blog posts so you can receive those via email when they are published (usually a few times a month). This is a great way to keep in touch more often and be sure you see the blog posts, which are usually sort of a combination of art journaling and thoughts on the art of living. You can start receiving these by signing up at thrivetrue.com/magicmail.
VIP Give-Aways: To celebrate connection, I'm doing Give-Aways reserved especially for email VIPs (Very Important Pen pals). Yay! 🙂 You'll be eligible for the VIP give-aways from both of the email options above. You can start receiving the Magic Mail (how I think of email in addition to beloved snail mail!) by signing up at thrivetrue.com/magicmail.
Thrive True E-Zine: Enjoy a FREE inspirational magazine from artists, poets, healers, & others. I am so grateful for the vision and the lovely contributors that have helped to bring this to fruition! You can subscribe to the Heart to heART emails to access the e-zines that have already been published and receive any new Thrive True e-zine when it is available.
Art & Inspiration: I share many photos of paintings and inspiration on instagram and facebook.
Co-Creative Artists Group: I prefer to see other artists as part of a co-creative community cheering each other on rather than competing in some way. I host a facebook group with this intention, to co-create, collaborate, and cheer one another on. I invite you to join if you'd like at: www.facebook.com/groups/cocreativeartists. You can share your art and inspiration or enjoy the art shared by others or both! 🙂 I think we are all artists, life artists!
---
Thanks so much for sharing this time with me! The creative process and being able to share the art that flows through is such a beautiful, healing, spiritual, playful kind of communion – with the divine, with myself, with nature, and with kindred spirits like you. It helps me to explore the wonder, see the beauty and magic, celebrate the sweetest aspects of this crazy thing called life and fall in love with living again and again… leaning in to life.
While I'm glad to offer all of the above and nurture generosity, this is my livelihood. I'm grateful for people that choose to support living, breathing artists like me while bringing unique art that speaks to you off the screen and into your home or office. You can shop with me at thrivetrue.com/shop or purchase gift certificates at thrivetrue.com/greatgifts. Thank You! ♡
I'd like to offer a blessing for all of us:
May we thrive, true, open, and free,
happy, healthy, and wealthy,
with grace, gratitude, and generosity,
strength, beauty, reverence, and delight,
celebrating the sweetness,
in harmony with joy and ease.
With a bow to the Divine Essence in us all and Wild Wonderful Well Wishes to You,
Julia (a.k.a. Jules/Jewels)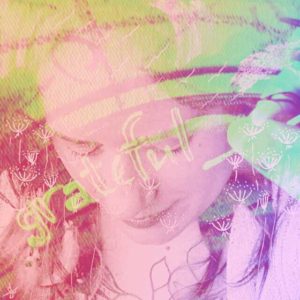 ---
Know someone else that might appreciate and enjoy the art, gifts, energy, community and other offerings? Feel free to share the magic and beauty! Please use the sharing buttons below to invite kindred spirits to enjoy life, all the sweet gifts, & community. ♡
I love the way the word kindness evokes multiple meanings as both 'being considerate and graceful' and also 'being of similar origin/species; kindred spirits.' Thank You for helping me co-create a community of kindness.