Ahhhh….. hello dear bright beautiful being. Welcome to my virtual hearth and home.  I'm so glad you've found your way here and I thank you for spending a bit of your sacred time with me. May we both be blessed by this connection. ♡  I'd love to offer you a nourishing cup of tea and a seat on the porch or by the fire with me! I hope this virtual visit will suffice for now!  May being here bring a smile to your heart… that's what I really want to do… see more sweet smiles. 🙂
You're invited to be part of a beautiful circle of online friends "leaning in to the sweet… leaning in to life" & creating a community of kindness. I always want there to be plenty in it for YOU! You can become a Sweet Patron and receive access to even more special member offerings while also supporting these efforts.
In addition to the art and great gifts that are available in the gift shop (including mugs and tote bags) and the many co-creative online courses/gatherings that I'm delighted to host (many are Pay What You Can/Pay What It's Worth offerings!), I also offer FREE GIFTS for the beautiful people that choose to spend time with me online. Thank You!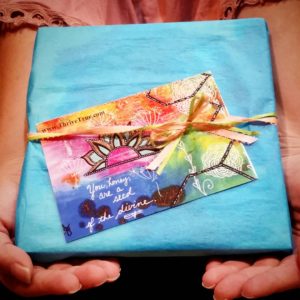 ---
Thanks so much for sharing this time with me! The creative process and being able to share the art that flows through is such a beautiful, healing, spiritual, playful kind of communion – with the divine, with myself, with nature, and with kindred spirits like you. It helps me to explore the wonder, see the beauty and magic, celebrate the sweetest aspects of this crazy thing called life and fall in love with living again and again… leaning in to life.
While I'm glad to offer all of the above and nurture generosity, this is my livelihood. I'm grateful for people that choose to support living, breathing artists like me while bringing unique art that speaks to you off the screen and into your home or office. You can shop with me at thrivetrue.com/shop or purchase gift certificates at thrivetrue.com/greatgifts. Thank You! ♡
With a bow to the Divine Essence in us all and Wild Wonderful Well Wishes to You,
Julia (a.k.a. Jules/Jewels)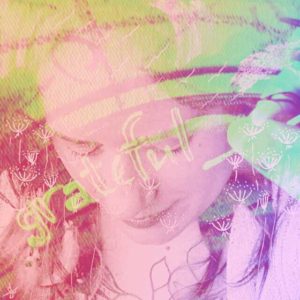 ---
Know someone else that might appreciate and enjoy the art, gifts, energy, community and other offerings? Feel free to share the magic and beauty! Please use the sharing buttons below to invite kindred spirits to enjoy life, all the sweet gifts, & community. ♡
I love the way the word kindness evokes multiple meanings as both 'being considerate and graceful' and also 'being of similar origin/species; kindred spirits.' Thank You for helping me co-create a community of kindness.