This "Wanderlost" mixed media painting is another collaboration with artist Judith Schaller from Germany. The painting Judith sent reminded me of an exotic city. The image below is what it looked like when Judith sent it to me before I started adding my touch: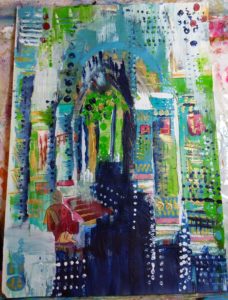 I loved it just the way it was when she sent it, yet I wanted to see how I might keep the story going without losing her original energy! I tried to let a lot of the original remain while also adding collage and painting it to tell a bit more of the story I saw within. I wish the camera captured the vibrant fluorescent colors and metallic paints better!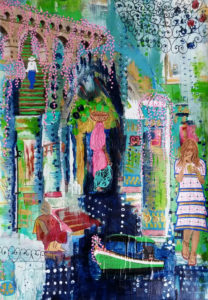 Working on this one was like taking a little vacation. I can almost smell the Mediterranean Sea… all the way from the woods in the Blue Ridge mountains! The boat is named after Judith's instagram @jutzie73.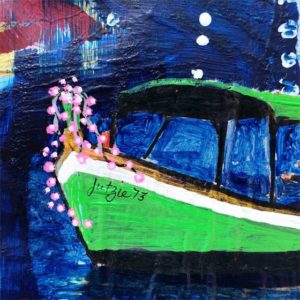 The title is inspired by travel bug wanderlust and the following quote by Tolkien (which happens to be from one of my husband's all time favorite authors):
"All that is gold does not glitter,
Not all those who wander are lost;
The old that is strong does not wither, 
Deep roots are not reached by the frost."
– J.R.R. Tolkien
These collaborations have been fun and have really stretched me into different subjects, colors, etc. 🙂 Though I didn't record the process for this particular one, I have been recording several using similar approach and techniques for an online course offering I'm currently putting together about listening to and trusting our inspiration & instincts… to creatively explore and express life, wonder, and ourselves. You can sign-up for early bird announcements & sweet specials to receive more information when available.
Hope you have a wanderful day! 😉
---
I've set up a special mailing list for blog posts if you'd like to receive these via email when they are published.
Please feel free to use the sharing buttons below if you know someone that you'd like to share this art & message with. ?