i see the pure light within you
walkin' on sunshine
alive and true
Sweet Solstice Blessings to You! This one feels fitting for the Solstice… whether it's the day with the longest sunlight, as it is here in the northern hemisphere for me (although it's been raining all day!), or the day with the least sunlight (in the southern hemisphere), which marks the return of the light and longer days.
(If images appear blurry, please click to enlarge and view more clearly)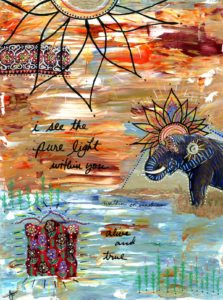 Original, Prints, Mugs, & Totes Available in Gift Shop
It was partly inspired by a parable about an elephant and blind men that debate over the true nature of the elephant. The elephant is symbolic for the divine. It is featured in the book called "Kindness" (see link at thrivetrue.com/bookshelf if interested).
This is another example of how I often feel like I paint songs, though that wasn't on purpose. The popular 80's song by Katrina and the Waves played through my head at some point:
"I'm walking on sunshine (Wow!)
And don't it feel good"
followed by the lyrics (often associated with Kundalini yoga – though originally performed by Incredible String Band):
"May the Long Time Sun
Shine upon you
All love surround you
And the pure light
Within you
Guide your way on"
which transformed into the main message in the text of the painting.
I love the idea of the elephant as representing the Divine looking at us with the message:
i see the pure light within you
walkin' on sunshine
alive and true
I'm ordering a mug for our home because I love when my boys read the messages while having a drink of water and want them to remember this one! 🙂
I've recorded the creative process for this painting to include with an upcoming online course. If interested, you can sign-up for early bird announcements & sweet specials to receive more information when available.
The idea of 'pure light' makes me think of the life force that flows through us all. It also makes me think of the following Rumi quote (which was digitally added to an abstract painting):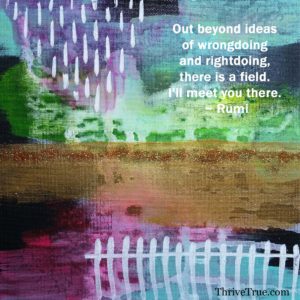 May we see the pure light of divine life when we look in the mirror. ♡
Please feel free to use the sharing buttons below if you know someone that you'd like to share this message with and let them know you see the pure light alive within them. 🙂
---