Product Description
Celebrating generosity and beautiful blessings, profits from this print go to the charity, Seva. "Seva transforms lives and strengthens communities by restoring sight and preventing blindness. They provide critical eye care to underserved communities, especially women, children, and indigenous peoples. 36 million people in the world are blind. 75% of them could see again. Restoring sight is one of the most effective ways to relieve suffering and reduce poverty." This is another cause that hits home for me. Both of my boys are partially color blind and one of them needs strong glasses to see much beyond what he can reach with his hands. There is so much beauty in this world to be seen.
This is a print from the original "Pure Light" Mixed-Media Art Collage Painting. The text reads:
i see the pure light within you
walkin' on sunshine
alive and true
Please click image to enlarge and view details more clearly: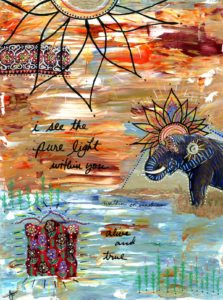 Choose from 2 different sizes: 8×10 inches, or 11×14 inches
Printed on acid-free paper using archival inks to last a lifetime without fading or loss of color and shipped directly from a fine art printer.
The print may be cropped a bit differently than image shown here depending on size selected.
Of course, watermarks and web address do not appear on any size of these professional prints.
May the art in your home bring both beauty and blessings.