Product Description
This print is from the original painting that was created as part of "The Present" Thrivival online retreat course. This is inspired by the blooming pineapple sage plant in our garden and yellow moths or butterflies that love it along with the words 'presents' and 'presence" which were collaged into the art from an old dictionary page. It is a reminder of the presents in the present. Is there anyone you'd like to thank for their 'presence' in your life? ?
Please click image to enlarge and view details more clearly: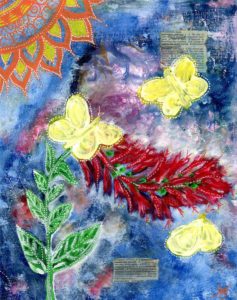 Choose from 3 different sizes: 5×7 inches, 8×10 inches, or 11×14 inches
The smaller 5×7 inch option is printed on premium paper (heavier than cardstock) with a matte finish.
The 8×10 inch or 11×14 option is printed on acid-free paper using archival inks to last a lifetime without fading or loss of color and shipped directly from a fine art printer.
The print may be cropped a bit differently than image shown here depending on size selected.
Of course, watermarks and web address do not appear on any size of these professional prints.
I'm glad to offer high quality Art Prints. I include the small, affordable 5×7 option because people have asked me for a size to fit on their desks or altar spaces. Please contact me if you have a custom print request, would like to feature these in a boutique, or need several for a high quantity discount.
I am very grateful for people like you that choose to support artists and bring unique art that speaks to you off the screen by purchasing a print for your home or office. Thank YOU from the depths of my heart! ♡ May the art in your home bring both beauty and blessings.
Wild Wonderful Well Wishes to You!