Product Description
☆ Painting Prayers ☆ Self Paced Online Course/Project
How often do we say, "my prayers/hopes/wishes are with you" or "sending love/prayers"? I frequently find myself painting prayers and then, literally 'sending the prayers' (blessings, wishes, hopes, dreams, intentions, affirmations… however you prefer to think about it) via the art created. It's a way to put more focus and energy into the blessings and to visualize them in some way.  It's also a way to give the well wishes to others in a more tangible way than saying that they're in our prayers or that we're sending well wishes.  I've made this available as a 'pay what you want' offering!  To pick your own price, click here to set your own price and checkout via paypal. PLEASE BE SURE TO INCLUDE A NOTE THAT STATES YOU ARE PURCHASING THE PAINTING PRAYERS ONLINE COURSE AND YOUR PREFERRED EMAIL ADDRESS to receive your welcome and access information. If you prefer, you can add this to your cart at a fixed price of $25.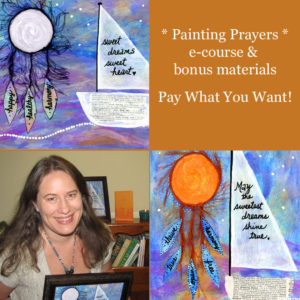 This Painting Prayers mini-course includes detailed video instruction for 2 painting projects (2.5 hours of instructional video for the projects PLUS a 1/2 hour bonus video with tips for art as gifts and printers/vendors that provide a variety of products to have art featured on PLUS another short bonus video about art as a playful, magical, spiritual, or healing practice), along with 5 pdf documents: a supply list, a document with additional examples and ideas, supporting documentation and links for vendors discussed in the bonus gift of art video, supporting documentation for the bonus art magic video and a reference list with links to other artists/books/sites. This is a downloadable, self-paced project. There's also a private facebook group for participants to share painted prayers, inspiration, and encouragement. The projects do not refer to or follow any particular religious traditions or affiliation and are intended to be all-inclusive and welcoming to anyone.
This is the first online course I ever offered and may contain references to my prior website and domain name, Loving Rd, which has evolved and moved to this Thrive True home.