Product Description
☆ Growing Gratitude ☆ Self Paced Online Course/Project ☆
Gratitude grows when we tend to the seeds!  We grow stronger, too, when we get in touch with what makes our hearts sing with delight. You will learn several mixed-media techniques as we create an art journal page and then bring it to life with a 3 dimensional project for the home (using paint, found objects, textiles, and jewelry supplies), including an embellished container, gratitude tree, and dream catcher.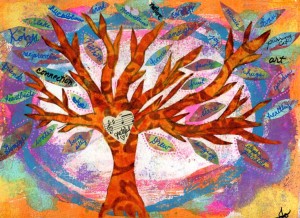 You are encouraged to dig deep into your roots and surroundings (including nature, sentimental collections, and supply stash) to incorporate aspects from your one and only YOU-nique life, loves, and story to celebrate life!  You're welcome to collaborate with your children. I've done this with my own children during past projects that inspired these projects and it was always a beautiful, blessed time.  Let's plant and nurture a garden of gratitude together. ♡
This offering also includes a guided visualization and other inspirational activities to cultivate and grow gratitude.  The videos are all downloadable and access to the classroom/playroom area is available immediately.
* The Growing Gratitude project was originally part of the Art of Gratitude collaborative e-course as my offering for the course.  I am now able to offer it individually as an affordable stand alone mini-course.  Purchasing Growing Gratitude separately does not include access to the projects from the bigger Art of Gratitude course by the other collaborative artists.