Product Description
This is a print from an original mixed media painting that was inspired by and dedicated to brave survivors of all kinds, whether from abuse or illness or broken heart. May we find the courage and strength within to thrive.
Celebrating generosity and beautiful blessings, profits from this print go to the charity, Thistle Farms, in Nashville, TN. Thistle Farms' mission is to HEAL, EMPOWER, AND EMPLOY women survivors of trafficking, prostitution, and addiction. They do this by providing safe and supportive housing, the opportunity for economic independence, and a strong community of advocates and partners.
Please click image to enlarge and view details more clearly: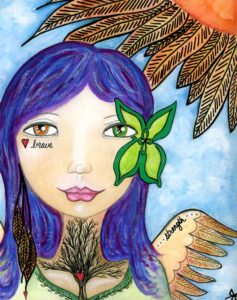 Choose from 3 different sizes: 5×7 inches, 8×10 inches, or 11×14 inches
The smaller 5×7 inch option is printed on premium paper (heavier than cardstock) with a matte finish.
The 8×10 inch or 11×14 option is printed on acid-free paper using archival inks to last a lifetime without fading or loss of color and shipped directly from a fine art printer.
The print may be cropped a bit differently than image shown here depending on size selected.
Of course, watermarks and web address do not appear on any size of these professional prints.
I'm glad to offer high quality Art Prints. I include some small, affordable 5×7 options because people have asked me for a size to fit on their desks or altar spaces.
May the art in your space bring both beauty and blessings.