Product Description
* Brave Boots, Brave Hearts * Self Paced Online Course Available Now *
Calling together a circle of courage.  * 6 Diverse & Courageous Creative Projects *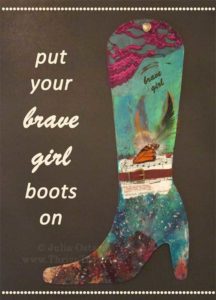 This course is packed full of encouragement and fun projects to empower us to live true to our own brave hearts.  The content includes several prompts, meditation, and other brave and bold actions to inspire courage along with the many playful art projects to unleash our courage and creativity.
The creative projects include:
* Brave Heart Intention Cards
* Mixed-Media Brave Boot (similar to picture)
* Altered Brave Boots – altering a pair of actual boots
* Brave Boot Bling – mini jewelry project to add brave bling to boots
* Brave Boot Ornaments
* Brave Heart Self-Portrait
+ Bonus Projects!***
* This online course was first offered in 2015 and contains references to my prior website and domain name, Loving Rd, which has evolved and moved to this "Thrive True" web home. It is now available as a self paced option to start anytime.
---
*** Please note: The original course included the following offerings from guest artist guides which are no longer available with the current self paced course:
* Journaling Our Brave Hearts – Iris Fritschi-Cussens from Iris Impressions
* Brave Girl Chant Necklace – Using feathers, charms, and beads with Sherri Welser
* Pocket Love Hearts – Shape & Decorate Paper Clay hearts with Sherri Welser from IndigoEarth & WildHeart Art Studio.
AGAIN, the guest guides offerings are NOT part of the current self paced course available now. 
---
Prior art, painting, mixed-media or crafts experience is not necessary. All are welcome!
The projects are all available to start soon after purchase (once you receive your confirmation email with access information) so you can pick and choose what sparks your creative juices at the moment and put your energy and passion into what makes your brave heart sing.  You can dance around as much as you choose since this is a self-paced course. There is also a private facebook group for participants of the course to share and encourage one another.
All of the projects are downloadable so you can access them anytime and keep them forever!  Access to the classroom will be available for a full 6 months from time of purchase to enable you plenty of time to read through it and download all the videos.
There is a kick-off week with daily prompts and activities to tune in to our own brave hearts. There is also be a wrap-up week with daily prompts and activities for you to March Forth, Brave Heart!
Brave and be*you*to*full wishes to you!