May we nurture the seeds within and feel that we are born to bloom! May this ever blooming garden and poetic message be a sensual treat & blessing on this Equinox. May heaven and nature sing in harmony… It seems like divine timing that I happened to finish this today, on the Spring Equinox here in the northern hemisphere.
This is another collaboration with my artist friend, Judith Schaller from Germany. She planted the seeds so that this one could bloom! I loved it just the way she sent it so this one visited with me for a while before I was willing to touch it! This is what it looked like when I received it… blooming beautiful! 🙂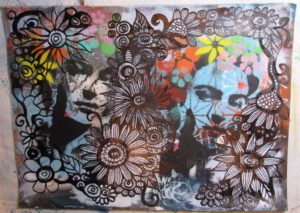 It inspired me to browse through a seed catalog for words which led to the message within. Wow, seed catalogs can be quite evocative and sensual! I collected words and wrote out the prose in a notebook. The message encouraged me to start adding collage elements and paint. She took on a life of her own from there and I gratefully spoke with her as she evolved.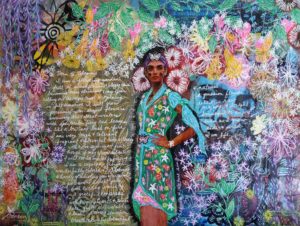 I went for a walk with my boys earlier today and noticed several blooms around our home, both ones we've planted, such as peach blossoms, and plenty wild ones also, such as violets and dandelions (yes, I made wishes!). I finished this painting after our walk and that time spent breathing in the signs of spring all around. I've read the message in the following video as a little celebration of the seasons and Mother Nature's ever changing beauty.
I truly loved it the way Judith sent it… even more than the final, somewhat fierce feeling and overflowing image… yet, the process and the message were a blessed journey and gift. So, I trust that the message, which feels both empowering and graceful at the same time to me, wanted to flow forth.
I've been recording the process through several similar recent mixed media collage paintings to share in an online course offering. I hope that by sharing both the art and the creative process with others, that we may be companions for a portion of our journeys… connecting, encouraging and inspiring one another to trust ourselves and flourish. I'd love to know if this is something that interests you! Please share in the comments if so and if you have any questions, requests, or suggestions that you'd like me to include/address. You can also you can sign-up for early bird announcements & sweet specials to receive more information when available.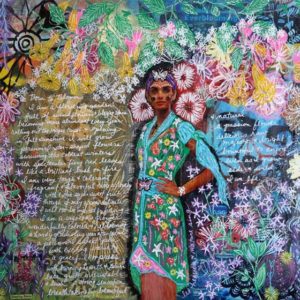 This one also reminds me a bit of the Secret Garden series I did last year with its many layers. 🙂
May each season be full of blessings as we grow in the garden of life.
---
I've set up a special mailing list for blog posts if you'd like to receive these via email when they are published.
Please feel free to use the sharing buttons below if you know someone that you'd like to share this healing art & message with. ?