Short & Sweet: Artist, Author, Brave Heart, Explorer, Farm Girl, Grateful Guide, Imperfectionist, Mystic, Mountain Momma, Playful Painter, Reverent, Sweet Spirit, Thrivivalist, Wild Wonder-full Weaver… Exploring and falling in love with life through art and wonder. I often greet the blank canvas/surface or page as both a playground and a temple of sorts – a place to meet with mystery, dance with the divine, explore the wonders & wilderness, play with possibility, sing, pray, cry, celebrate and co-create with the life force that flows through all! Offering creative courses, gifts, art, and wild wishes from my heart to yours. ♡ I love to collaborate and co-create. I'm also currently writing a book and recently finished a few inspiration card decks! I live near Blue Ridge, GA with my twin boys, guitar man, Koiya the cat, and many woodland creatures. Leaning in to the sweet and the art of living & loving.
Stay a while & get a bit more intimate: I'd love to offer you a nourishing cup of tea and a seat on the porch or by the fire with me!  I hope this virtual visit will suffice for now!  May being here bring a smile to your heart… that's what I really want to do… see more sweet smiles. ?
I hope to inspire and encourage both myself and others to beat to our own drums, live our dreams, choose joy, respect others and nature, wonder wild, love more than fear, put our brave boots on, celebrate the variety and sweet in life, dance with the wild mystery, and thrive in harmony.  I found that making art helped to heal my broken heart after my mom, Paulette, lost the battle with ovarian cancer in June, 2010. My hope is to make something beautiful from the broken with this effort in her memory.
Art has been such a graceful and wonderful, healing, playful, spiritual joy for me. I consider myself a 'born again artist' because I lost touch with the artist within for too long. Now, I'm delighted to be guiding others to experience the magic possible when playfully creating by hosting online creative gatherings, courses, art playdates, and retreats to explore the wonder and nurture a playful creative community. Many of them are available as Pay What You Can/Pay What It's Worth options! So, YES, you can afford to participate! ? I've found that "Play makes Possible" (my twist on the old 'practice makes perfect'). Approaching creativity from a place of play has really helped me open up, enjoy the process and get in the flow. I'd love to join you for a painting playdate around the same picnic table… Yet, I am so grateful for the internet and all the awesome online friends and artists I've 'met' around the world in this way!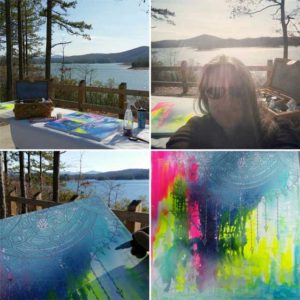 While I do have a Master's degree, it is not in art! I took a bit of a detour to get from my childhood ideal of being an artist and teacher to actually doing both now as an adult. I followed practical advice and job demand to work as a facilitator and project manager in the computer consulting world, working for 2 of the 'Big 5' first. Then, I moved to a fast paced company in a penthouse office in South Florida when e-business was first booming (where I met my husband). I always knew that career was a temporary thing to pay the bills until moving on to something else or having a family. I've always been a small town girl at heart and that was quite a different life! I was born on a hippie farm in West Virginia and moved to a small island in the Florida Keys when I was 15. Corporate life wasn't a great fit for me! When a smaller company I was working for last went bankrupt in 2002, I chose to leave the profession. My salary plummeted, yet my heart opened when I took a position at a Montessori school. I did that until I gave birth to my twin boys in 2004 – 3 months before the due date! My world changed in an instant to revolve around the NICU schedule and hoping my babies would survive. They brought part of the hospital home with them with 2 monitors each and oxygen support. Thankfully, they are thriving big boys now! Here is a picture from a few years ago when we were stargazing on the back porch where we live now in the Blue Ridge mountains – burrito brothers. 🙂 They are another reason I started this current effort in 2010… to share their Grammie's legacy with them as she shines on, in, and through me and be an example giving my best to live fully and thrive in harmony.
Instead of a fine art degree program, I'm blessed to be doing an on-going self-directed art program. I feel I've gotten my MFA this way ~ Magic Found in Art! I am extremely grateful for the plethora of opportunities that exist these days! I feel fortunate to have had the freedom to choose my guides and classes. I've been blessed to learn from some amazing artists and women, such as Flora Aube, Alena Hennessy, Faith Evans Sills, Flora Bowley, Kelly Rae Roberts, Mati Rose McDonough, Tamara LaPorte, Tracy Verdugo, and many more. To me, this is the best kind of school, lots of learning, creativity, exploration and encouragement and no grades or competition!  This is also why and how we home school our children. It's wonderful to see and feel the integration and infusion as my art and creative process evolve!
I offer some of my favorite creations as art prints in various sizes and on useful items such as mugs and tote bags in the shop.  As a homeschooling mom, I'm somewhat of a 'bag lady' constantly carrying bags of books to and from the library, snacks to the beach or park, or groceries home. The unique tote bags often prompt smiles and connections. I also love to brighten the day with vibrant mugs for morning coffee or afternoon tea (or seasonal hot cocoa, soup, cool water from our deep mountain well, ice cream, etc!). I love that my boys sometimes comment on the messages in the art… that they are reminded often that I see the divine essence in them through the messages. These make great gifts for birthdays, friendship, thank you, get well, sympathy, mother's day, hostesses, teachers, secretaries, nurses, graduation, welcome baskets and more.
I also try to give/serve in various ways. I've published a free "Thrive True" e-zine featuring many other artists, authors, healers, poets, energy workers, and sweet souls co-creating together to scatter well wishes like wildflower seeds. You can sign-up for the Heart to heART emails to receive the ezine gift. I only send out a few emails to subscribers because I realize how overloaded we can get. I appreciate the opportunity to connect in that way and value and respect your time and inbox. To keep in touch in a more casual and more frequent basis, I share many photos of paintings and inspiration on instagram and facebook. ?
I think we are all artists, life artists! May we all find joy in the art of living and loving, have the courage to beat to our own drums, our own dreams, our own heartbeats, and thrive, true, open, and free in harmony.
May you find something that brings a smile to your heart and feeds your soul while visiting this site!  Thank you for taking the time to spend a few moments of your life with me. I hope you have a *be*you*to*full* day!
Wild Wonderful Well Wishes,
Julia (a.k.a. Jules/Jewels)
---
---